Written by Leah Lu
LANY has become a household name at Biola. After drawing a large crowd at The Eddy last October, there's been an indisputable connection between this campus and the three-piece synth-pop group. That link was evident at LANY's sold-out Los Angeles dates of the closing leg of their "Kinda" tour. Several groups of Biola students were interspersed in the line that wrapped around Hollywood Boulevard outside of the historic Fonda Theater. 
After doors opened on November 19th, Saturday night, the checkered floor of the venue gradually grew saturated with fans ranging from teenage girls to guys in their mid-twenties and, a personal favorite, a grown man repping a t-shirt with "#1 LANY Dad" sprawled across his back. From the balcony, one could see the crowd flood in, buzzing with an energy slightly juxtaposed to the venue's choice of pre-show smooth jazz. 
Transviolet warmed up the stage by opening with an intense, synthesizer-fueled performance of otherworldly tunes that coaxed listeners into dancing. Songs like "New Bohemia" and "Future" held themes of the uninhibited thrill and freedom of youth. "LA Love" served as an ode to the commonly romanticized and overrun town that both Transviolet and LANY reign from, and that bittersweet relationship with the city of angels infuses their rhetoric. Though "LA Love" hints at a distaste to the fame-obsessed culture of Los Angeles, lead singer Sarah McTaggart vocalized the band's relief to be back in Southern California especially after the past two weeks of political uproar, proclaiming their pride to be an LA-bred band.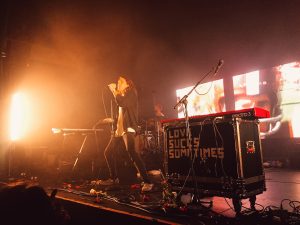 "Where The Hell Are My Friends?", the fun single off LANY's most recent album, "Kinda", shares a similar theme. With lyrics that ask, "Am I starting to hate California? Why am I in LA?", the pervasive loneliness, despite being in a city with a population of over 40 million, is present. However, the redemptive line that closes the chorus reveals the popular vague, but pertinent, sentiment that keeps many Angelenos around – "God, I'm so in love with this place."
And that love is no question with Paul Klein, LANY's frontman. Pausing after performing the heart-rending "Someone Else", Klein acknowledged that he writes too many songs about LA, but for good reason. As he began explaining that not long ago, the band was living in a tiny apartment on Wilcox and Willoughby–not far from the venue — he broke down in tears, emotionally sharing snippets of the band's journey. 
"I just wrote songs in the corner of my one-bedroom apartment in Hollywood; these are my best friends in the world and I called and I asked if I could be in their band," spoke Klein, gesturing to drummer Jake Goss and guitarist Les Priest while fidgeting with the microphone's wire. "We flew to Nashville and we wrote a couple songs and if you were to fast-forward two years, we'd find ourselves in the Fonda playing two sold out nights."
After being met with loud cheers of encouragement and support, Klein directed words of advice to eager listeners. "That dream that's in your heart, the thing that you can't ignore, the thing that keeps you up every night, the thing that everybody says you can't do but you know you actually can, I want to tell you, don't give up."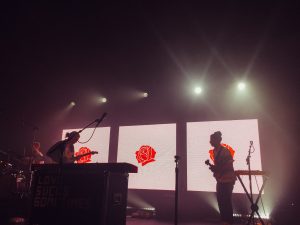 He announced that he was all cried out, and the lighted screens that backdropped the set melted into a warm yellow as the distinct percussion intro of the anthemic "Made In Hollywood" began. Before the chorus dropped, Klein yelled that this is the only city that can sing this song and really mean it, and an illuminated sea of phone screens and arms punched the air victoriously as the audience screamed lines like, "It's just a matter of time until we run this town," and "We'll dream about it, talk about it, won't live without it. Made in Hollywood."
Those three minutes felt like a coming of age not only for the band, but for the LA fans too. "Made in Hollywood" is a song that evokes the hopefulness of seeing things come to fruition, and it remains specific to inhabitants of Los Angeles, a city with unquestionable flaws, running rampant with materialism, grime and the superficial. But more than that, LA is a hubbub of scrappy aspirations and people who will not hesitate to "dream about them, talk about them, and won't live without them."