Written by Beth Cissel
Carla, Splash Aquatic Center
When I was a kid… we would swim all day and they could never get me out of the pool.
Carla comes to Splash Aquatic Center to swim almost everyday. Her vivacious and friendly presence is well known to the staff and other regular swimmers — she likes to go "where people know her name".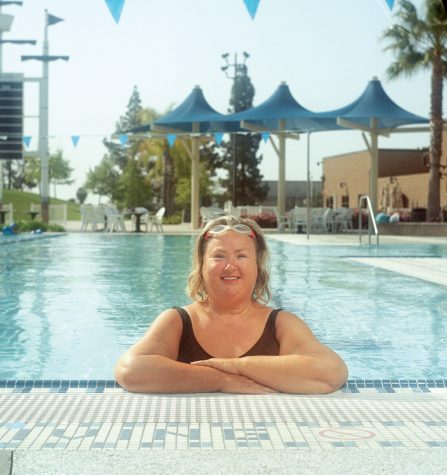 "This will be my fourth year [swimming at Splash]. You know why? It makes me happy. I try to spend a lot of time where people know me, people see me — you feel like you're part of the family"
In order for her to keep peace of mind, she keeps swimming. Listening to a wide array of music — jazz, R&B, funk, and even Gregorian chant — Carla freely dances and swims in the 25-yard pool to the waterproof-encased iPod in her ears. Forgetting all of her troubles when she swims, the water has become a safe place, free of negativity and stress.
Jennifer, La Mirada Library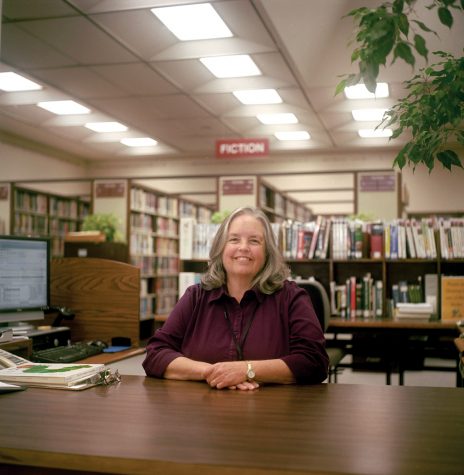 We as a public library really have this mission to have free access of information for everyone. It doesn't matter if they're rich or they're poor or they're new to the country or they don't speak English very well or they're uncomfortable with the whole idea of libraries.
Jennifer has been the La Mirada community library manager for twenty years. Interested in library work fresh out of high school, her life has been dedicated to her love for literature and equipping the community with free information. Jennifer feels responsible and eager to share about the plethora of resources the library has to offer, including printers, free WiFi, public events, children's story readings, a large database of free resources, and of course, books.
Ruth, Express Cleaners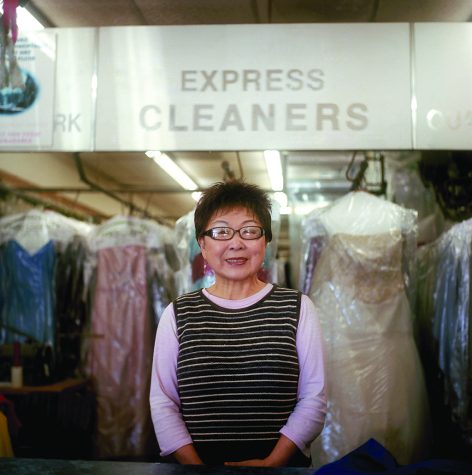 I like doing alterations, and I like people, too.
Ruth has owned and maintained Express Cleaners for the last twenty-two years. She is a warm, friendly woman, and she expresses her deep love for Biola students (10% off dry cleaning services). Her customers quickly become a part of the family; Ruth's daughter shares that 80% of her clients have been with her the last 22 years. It has become a generational loyalty — older customers' children bring in their children to get their clothes cleaned, altered, or hemmed.
Her background carries a traditional working mindset — very few family vacations, work everyday, and invest in the latest technology. Ruth is a dedicated employer, providing excellence and high quality, but her love for the business revolves around her customers. Her daughter shares, "I think the reason why customers keep coming back is her personality. I think that beyond the language barrier, I really believe that my mom has a warmth about her and people gravitate towards that".
Ted, Olive Lawn Memorial Park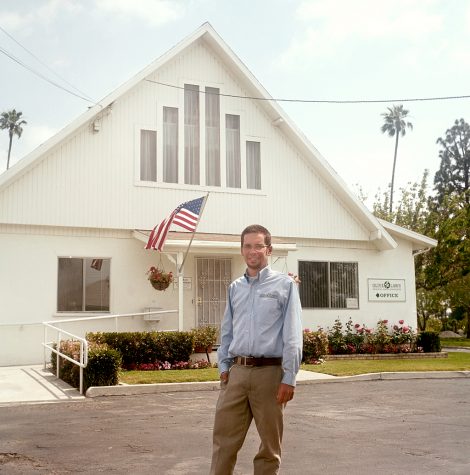 We mostly serve residents from La Mirada. That's most of our business because we're such a small town — they've grown up here, they've lived here all their lives, and so they want to be buried here.
Ted started working as a groundskeeper at Olive Lawn Memorial Park while attending La Mirada high school. Maintaining the 11 acres for 2 years, Ted then left to pursue other things, and eventually came back to the family operated business in 2008. Although the 25-year-old supervisor is not part of the original family owned company, Ted explains that he's in it for the long run, and will have the privilege of taking over the company in the future. Ted proudly shares that this is possibly one of the oldest run businesses in the town of La Mirada—started in 1924, it's in close competition with the water company.
Amy, the Carriage House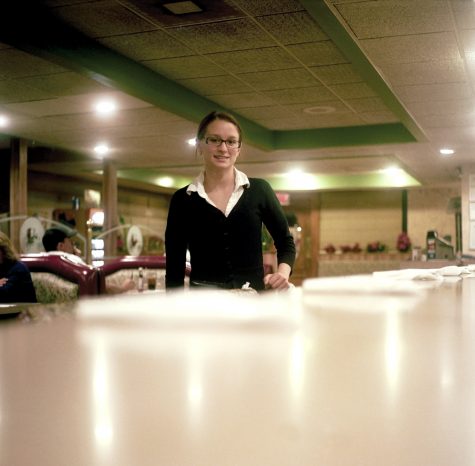 I have a lot of regulars. I have this old man — I don't even know his name. But he came in every Thursday…and I knew his whole order. So whenever he walked in the door I would just put his order in, and he would always play the Lotto, and he always said if he won I'd get half…they call him my boyfriend, but he's definitely not my boyfriend — he's like ninety.
Amy started working at the Carriage House when she was 17. She wanted a job close to her house — she lives right down the street — and she felt comfortable with this restaurant because her family ate here often. Accepted as a hostess, Amy worked that position for two years and arose to a waitress position, which she's had for the last three years. Balancing the lives of student and waitress, Amy works at the restaurant four days a week and attends Fullerton College two days a week.
Amy shares that she serves many Biola students, reiterating the generous discount of 15% off to students with a valid I.D.
Yvonne, Z-Ultimate Self Defense Studio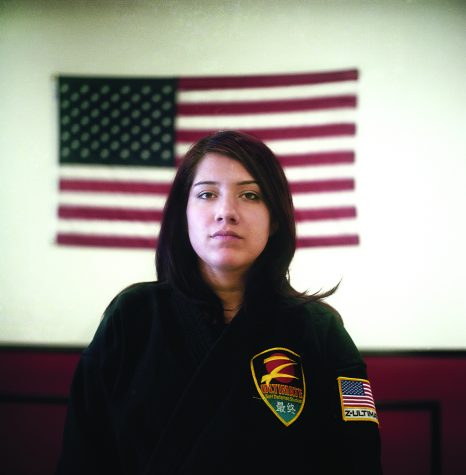 One time I went to go do a demonstration for an elementary school… as soon as I walked in everyone was like 'oh my gosh a black-belt!' I forget — from the mind of a kid or even from someone who's not in this realm all the time, it's very exciting and different to know all the things we do.
Yvonne started learning martial arts at the age of 13. She proudly received her black belt in just under four years, and started teaching at the age of 16. Now 22 and the chief instructor of Z-Ultimate Self Defense Studio, Yvonne maintains a rigorous workout schedule, teaches private and group lessons, oversees the business aspect of the studio, and manages two other instructors. Her students range from kindergarteners all the way up to a 71-year-old retired cop. Passionate about self- defense and gaining confidence, Yvonne instructs students in maintaining physical and emotional health.
Lou, The Palms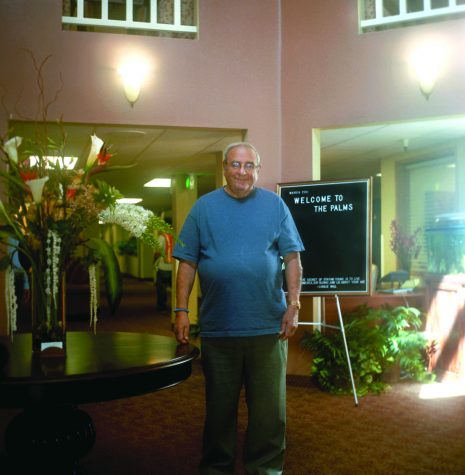 I'm about the youngest guy here, and I try to get them going.
Lou waved the East Coast goodbye and moved from Connecticut to California in 1959 — and has been here ever since. He worked with sporting goods his whole life, and once supervised a sports store in Santa Fe Springs. Now retired, Lou moved to The Palms last October; he was drawn to the quality of the facilities and all the activities they have to offer. Lou's wife passed away in 2009 from leukemia. His love for people helped solidify the decision of moving to the Palms. Lou's day is packed with activities, games, special events, and visiting his daughter and two grandkids down the street. His specialty sport is beanbag baseball, and although he's only been on the team a few months, Lou shares that the Palms team has held the championship title eight years in a row. The team practices three times a week, and competes with surrounding retirement centers.
Javier, La Mirada Rent-A-Tux
---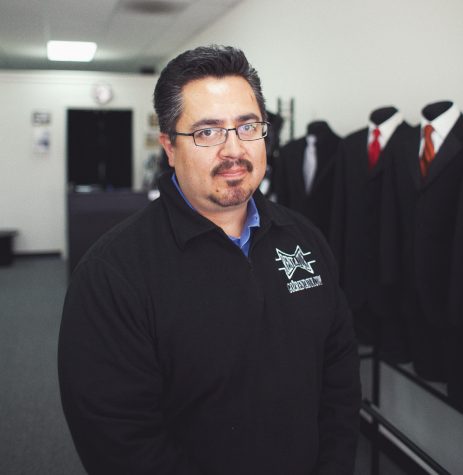 When someone walks in the door, I don't even have to take their measurements. I already know what coat size they wear—what pant size they wear…I use a tape measurer, but I really don't need to.
Javier became the Rent-A-Tux owner 6 years ago. Purchased from an "Uncle" type figure, Javier now partners with the previous owner's son. He shares that the original store opened in 1965, and it has been family operated by various La Mirada citizens. Together the tux rental duo serves La Mirada and beyond, assisting men of all ages in choosing formal attire for various occasions, particularly weddings and high school proms.
Brittoni, Oxman's Surplus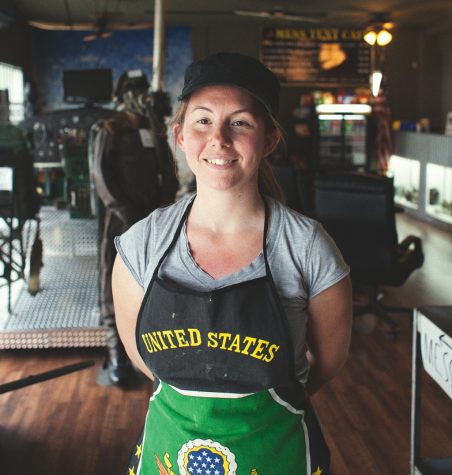 We actually have a gentleman that comes in who was part of the original Band of Brothers—they have that show on HBO, he's one of the original guys from the unit and he comes in on a regular basis—at least once a month.
Brittoni, a junior at Biola, landed a unique job last December as a café worker for Oxman's Surplus store. The store itself consists of a museum and the Mess Tent café, along with a warehouse style room filled with military attire, intensive camping gear, and more. Oxman's celebrated its 50th anniversary as a store last July. Mr. Oxman, now 95, and his two sons celebrated the golden year with a grand reopening of the café, as well as a redesigned war museum. The incredibly stocked museum consists of guns, rockets, WWII memorabilia, gas masks, helmets, and a large array of other objects, all provided from Mr. Oxman's personal collection. Apart from the museum experience, customers can get a taste of military life by purchasing an MRE [meal ready to eat] at the mess tent.
Steve, The Cyclery Bike Shop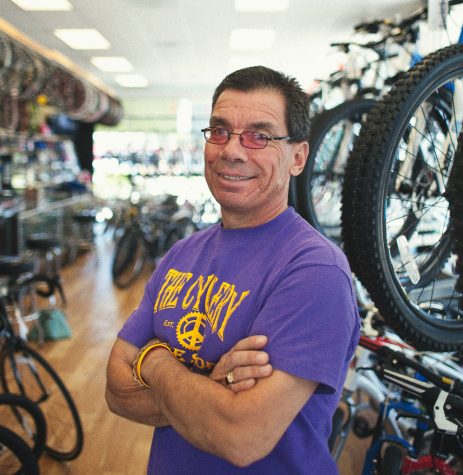 I work seven days a week, 14-16 hour days — my only break is on days that I'm racing. I ride to work a few times a week, I ride home a few times a week… on those days I'll have up to four hours on a bike… I'm immersed in cycling, I get to play all day.
Steve, a lifelong cyclist, combined his passions for riding and business to open The Cyclery Bike Shop in 2010. In this environment Steve manages paperwork, builds bikes, and loyally serves his customers. A bike racer of fifteen years, Steve loves his job and loves his hobby — it's all about biking.
photos by Kelsey Heng and Beth Cissel