Written by Candace Arce-Lindsay
Sometimes it's hard to get out of bed. Everyday fears, anxieties, weariness, and stress make it difficult to leave the comfort and safety of sleep. Still, there is something that coaxes us into action in the morning, into the struggles and triumphs of each day. On a good day, this something could be the anticipation of seeing a certain pretty face or learning something new. On other days, it's nothing other than pure necessity. The something differs from person to person, and whether it be the drive of hope, the press of responsibility, or the conviction of their calling, it gets them up and going. I asked familiar faces around campus what gets them out of bed in the morning, and their stories show how their experiences get them into each new day.
Angie Ramos
Angie Ramos has been working at Biola for eight years. She began as a regular employee and was promoted to a manager position after only two years.
"What gets me up in the morning is remembering I have to be ready to go to work," laughs Ramos. As manager at the Eagle's Nest eatery on campus, her job is nothing simple. "People think it's easy," she shares, "but there is a lot of responsibility involved." Striving to keep Eagle's stocked, running efficiently, and keeping student workers in line keeps Ramos busy. "I enjoy the challenge of it, but it has definitely been hard for me to become a manager, because sometimes it's hard for me to tell others what to do." Ramos admits to feeling weaknesses in her management, but she acknowledges the consistent growth that she's experienced over the past five years she's worked as a manager.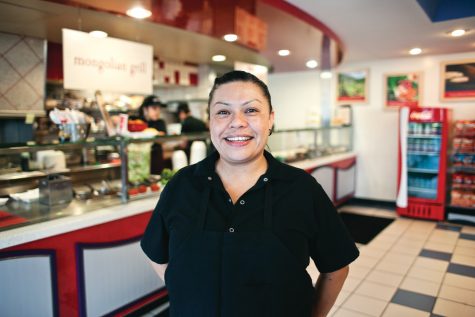 Ramos' mother, who also works for Bon Appetit at Biola, has greatly shaped her work ethic and the way she approaches her job.
"My mom is a very important person in my life. I've always looked up to her," Ramos says earnestly. Her mother, Olivia, the third of eight children, was orphaned at a young age and had to raise her five younger siblings while her older brother and sister worked to support the family. The youngest sibling was only six months old when her parents died. "They were so poor that sometimes they went days without food," Ramos says. "My mother had to struggle to care for her siblings, and I admire her for her strength in going through with that, in spite of all the hardship." Seeing her mother's strength has empowered Ramos in the struggles and joys in her own life.
Ramos' childhood has greatly influenced the way she lives life today.
"When I was little, my mom taught me how to work hard and how to take care of myself." Ramos works to share the strength and work ethic she has learned from her mother with her own daughter Samantha, and, as he grows older, her baby boy Salvador. In the mean time, she continues by setting an example of dedicated hard work in each aspect of her life.
Arek O'Connell
Senior Arek O'Connell, a Christian ministries major with an emphasis in youth ministry, has been deeply impressed with the importance of living life to the fullest. Two years ago, the murder of his father drove this belief even farther home. His father, who was stabbed several times by an intoxicated assailant, never recovered from surgery.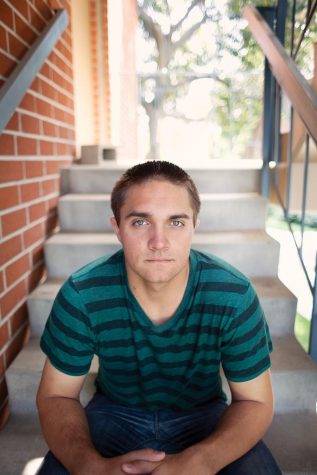 "If you told me that my dad was going to die at 45, I never would have believed it," O'Connell says. "You just don't know when your time is up." His father's unexpected death has shown O'Connell how valuable every opportunity in life is: "I want to ask the questions 'what does God want me to do, why did God choose to give me life, and what do I need to do with that?'" O'Connell's investment in junior high ministry, coupled with his conviction of life's value gets him out of bed every morning. His ministry with his junior high boys is not only his top priority, but, he feels, his greatest responsibility.
During his early teen years, he found out his biological father had abandoned his mother after impregnating her. This revelation brought many inner struggles of feeling unwanted and worthless. At this difficult time in his life, O'Connell's youth pastor pressed upon him the great value and possibility of his life.
"He told me, 'Your life is counted worthy by the Lord, so you need to make the best out of it,'" O'Connell recalls. Looking back at the trial-filled period of his own youth, he realized the best way to make an impact for Christ was to interact with kids that are in the same place he used to be. In short, O'Connell has come to realize that his story allows him to reach youth on a level that, without his life experience, would be impossible.
One of O'Connell's hopes is to set an example by living his life for God and for others. "My prayer is 'Let Arek be forgotten and God be remembered.' What am I doing with my life if I'm not doing that?" Even though O'Connell has had to endure hardship and great loss in his life, the gift of life that has become so precious to him inspires him to get out of bed every single morning.
"God has given me today for a reason," he states, "and I don't want to waste it."
Stephen Adamcik
"My dog gets me out of bed in the morning," grins Steve Adamcik, professor and golf coach here at Biola University. Turning to a more serious note, Adamcik shares that his drive to build strong relationships while teaching golf and working towards his master's degree encourages him to rise each day.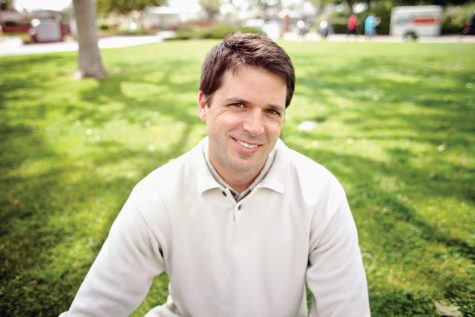 "I want to use golf as a platform for ministry," he says. He enjoys teaching because he loves interacting with his students, hoping to work spiritual formation into teaching golf, especially as he pursues a master of arts degree in Old Testament at Talbot School of Theology.
"My swing was horrible," says Adamcik of his golf skills when he first moved to California. "Here I was, small town Michigan kid, and I thought that my golf swing was great and that California was going to be my golden ticket." Adamcik shares his struggles on moving out to California and plugging in to the professional golf community. Not long after moving, he joined The Professional Golfers Career College to hone his skill, where he met professional golf instructor Kent Brown. Brown took Adamcik under his wing and helped him improve his swing, but he learned more than just golf from his instructor.
"Kent showed me that, as a Christian in this world, relationships should be one of the priorities in life," shares Adamcik. "He was really interested in getting to know you and investing in you, and not just valuing you for what you could offer by way of skill and connections." Adamcik hopes to grow this kind of relationship with his own students as he teaches here at Biola.
Adamcik's extensive experience in the professional golf world, along with his relationship with Kent Brown taught him the importance of relationships and made him a strong advocate of golf as a bridge for relational gaps.
"Golf is like another language," says Adamcik. "You could have absolutely nothing in common with a person besides the fact that you both pick up a club once in a while, and you've got a great starting point to build a rapport with someone." Using golf as a ministry has become an avenue to unite both his motive to build meaningful, invested relationships and his desire to encourage spiritual growth.
"I'm excited about what lies ahead," he says. "Hopefully, I can be a blessing to everybody, and we can have a little fun on the golf course at the same time."
photos by Kelsey Heng and Beth Cissel