Written by Sophia Silvester
"I was nineteen years old at the time, and I went to a party at my friend's house," Cheyenne wrote, anonymously sharing her story on the Speak Your Silence blog. "I knew maybe three people there, and even then, I did not know them very well. I ended up enjoying myself and drank a bit. I needed a little space, so I sat on a couch away from everyone when an older man sat with me. He was immediately physical… I said I was uncomfortable, and he responded with, `Don't worry about it.' At that point, I stopped fighting."
Cheyenne's story is not uncommon. According to a report by the National Sexual Violence Resource Center, one in three women and one in six men have experienced sexual violence. Two thirds of college students have experienced some type of sexual harassment, and more than 90 percent of sexual assault victims do not report the assault.
"The statistics for sexual assault and abuse are absolutely staggering," wrote Speak Your Silence's communications director Savannah Esquivel in an email interview. "And we [Speak Your Silence] are focused on walking alongside those that have been affected by it. Each person is on a different journey, but we want to help them live a great life, despite what happened. And until they are ready to use their voice, we will use our voice for them."
Speak Your Silence
Speak Your Silence is a nonprofit organization that seeks to "help those affected by sexual abuse and assault move forward to live great lives" by raising awareness through their van outreach and connecting victims of sexual assault to counseling services in their area. CEO Matt Pipkin founded the organization in 2012 after he sought counseling after being sexually abused at age 6. His experience in counseling changed his life, driving him to help other victims find that same freedom.
"So often – like in my own experience – people think that if they share their story, it'll ruin their life," he wrote over email. "But, I think this is a lie that effectively keeps people from finding freedom."
 Their van outreach consists of a 1977 white Volkswagen bus named Vanna White, manned by their outreach manager Bridget. She sets up shop outside of locations like coffee shops with a display of the Speak Your Silence merchandise and cards about the organization's mission and has conversations with anyone who passes by, giving their mission more visibility and connection.
"Our cause is so personal," Pipkin explained. "Simply having an online presence… just felt kind of empty to me. One conversation can change or save a life, so we got our VW bus for the purpose of having real-life, uplifting conversations with real people. And, it's been so awesome! Bridget has been running the bus for a year and reached about 20,000 people in-person in that year. It's so well-received, and it's just happy, which fits perfectly with our mission and vision."
The Blog
Another aspect of Speak Your Silence's outreach is a blog on their website, which 2015 Biola graduate Savannah Esquievel directs.
"My job brings value and importance to an individual's story," she explained. "My job is to bring that person's story to life, share it with others and break down the shame of sexual assault."
The blog consists of announcements, posts from staff members and anonymous stories from people who have gone through sexual assault and sought help. Cheyenne was one of the people who shared their story.
"If other brave men and women had not shared their stories, it may have taken me even longer to get to the bottom of my experience," she wrote. "Every person has a different path of healing, but I felt sharing mine to a larger audience was a necessary step in mine. While I will never heal entirely, I want to use my pain as a safe place for others to share their stories and their pains." 
The website also offers a space for victims to anonymously share their stories for one of their staff members to read. It will not be shared, and there is no way for the reader to respond, but the simple act of speaking it to someone else will relieve that experience of some of its power.
 "I don't think it's necessary at all for people to share their stories publicly, unless that's something that [they] clearly feel led to do," Pipkin said. "I think it's important to simply get it off your chest so that it's no longer something you carry alone, and you can finally take steps to move forward."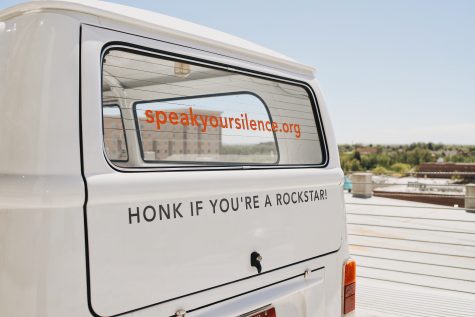 Sharing Your Story
 The organization partners with BPA Health, which built a nationwide network of counselors that enables Speak Your Silence to connect anyone from any area to the help they are seeking.
 "Every single person is so valuable, and I love it when an individual begins to seek healing – because they have such awesome things ahead of them," Pipkin wrote. "If you're ready to see a counselor, we want to help you! My counselor changed my life, so I'm a big believer in it. And if you're not ready yet, that's totally fine! What's the one step you can take today to move forward in a healthy way? Do that! And be proud of yourself for having the guts to do it."
Counseling is often promoted as not only a beneficial step of the healing process, but a necessary one. Chris Grace, director of Biola's Center for Marriage and Relationships and professor of psychology, said that trauma manifests itself in different ways for different people-even in those that think they are fine.
"It happened to you and its impact on you is going to be widespread," he explained. "Counseling helps you figure out where your particular experience and trauma is going to show up in you."
But even the act of sharing one's story with a trusted friend can have great benefits too. The important part is letting someone else come into that experience.
"The moment you give yourself permission in a friendship to say, 'These are the things I'm feeling, this is where I'm at,' you'd be amazed at the freedom you begin to feel," Grace said. "It gives you an empathic listener, but it makes you realize that you were holding on to things about yourself that you were trying to hide, and there's a freedom in finally being able to talk about it, because then it allows you to think about it a little more clearly… It allows a healing process and hope to come into play."
It is also vital that the people that victims share with receive them openly and lovingly.
"A lot of it is making sure you have a posture of listening and receiving them in their experiences," said Dawn White, Biola's Title IX coordinator. "Another really big one is not naming it for the individual. And the reason for that is that is because it's best for them to name it for themselves in the time that they come to that reality that that may have been that experience rather than someone take away the power of naming their experience." 
She also listed things like reserving judgement, not asking for specifics of what happened or questioning the legitimacy, respecting their privacy and directing them towards other resources that can provide additional support. 
Cheyenne wrote that sharing her story with one friend helped her begin to heal, and from there she was slowly able to share with more and more people. Now, she is ready to give back.
"I feel now is a good time to finally share," she continued. "In the city with some painful memories for me, I am taking hold of my experience here. I am going to put so much love back into this city. I will no longer be silenced by shame or guilt because I have finally given myself the compassion I extended to other survivors. It took four years, but I finally feel like I am the writer of my own story, and I am writing it with strength and beauty."