Written by Jenna Wirtz, photographed by Natalia Hernandez
With about a week to get their bearings, Biola University athletes were invited to live on campus before school began this fall. Since the invitation/announcement  came after Biola decided to close campus for the semester to the general student body, many athletes jumped at the special opportunity as they longed for a somewhat normal college experience. But with social-distancing protocols in full-swing, including wearing a mask during practices, students have begun to feel the strain. The closest one can get to another student is sharing a meal together. 
"It still feels like we're quarantined," said freshman track athlete and psychology major Sophia Morris.
THE STRUGGLE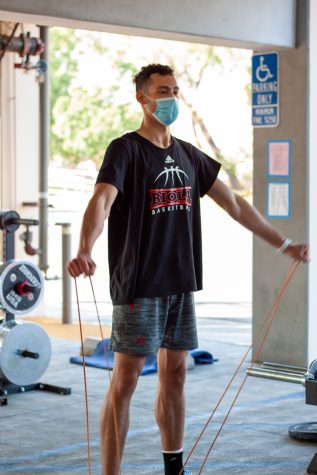 Because of the restrictions in Los Angeles County, the opportunity to live on-campus this semester was limited to student athletes and nursing students. And with remote-learning continuing this fall, it is no surprise that many other students envy the students who are staying on-campus. However, it does not seem quite as dreamy as many are imagining it to be. 
"I wouldn't say it's like being in jail," said freshman basketball player and journalism major Madilyn Meadows. She has struggled with finding community on-campus because of the amount of social barriers there are due to the restrictions. Athletes cannot have any guests in their room, including other on-campus athletes. 
Her season with women's basketball is not cancelled, but the games she is playing have been limited significantly. 
This semester has been difficult for Meadows, but she said she is very grateful for the opportunity to be on campus and play the sport she loves. 
"When you love the sport it doesn't really matter — there's no way I could stop playing," she said.
Having a student body wholeheartedly following Christ means finding a really unique community one cannot find anywhere else. Despite this, these athletes have the opportunity to still experience dorm life. 
"While on campus, we can't really live a normal life," said Morris. 
With mask restrictions in full-swing, it can make even Zoom calls difficult. If athletes want to get out of their dorm, they must wear a mask, and if they are found not wearing one—even if they are not within six-feet of another individual—they can get a $100 fine. After the fine, they get sent off-of campus. These strict restrictions have caused athletes to stay inside of their dorms most of the time or go off-campus for activities so they do not have Campus Safety reminding them of the rules. 
Once athletes were invited on-campus they were required to participate in a "quiet period." This meant they could not leave campus for two weeks after moving in. The first two weeks of a normal freshman experience are full of events and ways to connect with others, but athletes were left inside their dorms or wandering campus, six feet apart. 
Morris said that after the quiet period passed, the restrictions were never officially lifted so they had to continue staying apart from each other, despite practicing together and eating meals together.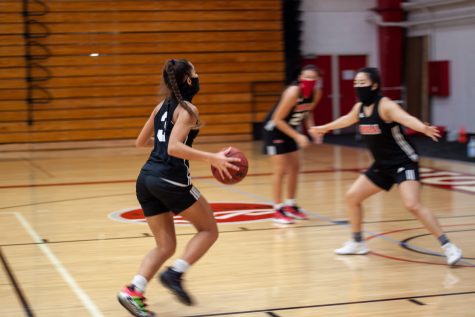 "All gatherings are kind of discouraged," she said. "It seems like they expect us/want us to stay in our rooms all day and only see each other at meals. Though no rules explicitly say we can't hang out, the restrictions in place make it very difficult to do so." 
MULTIPLE PERSPECTIVES
While COVID-19 has made on-campus living anything but normal, Biola's community continues to  resiliently break social barriers.
"Even though it's empty, there is a sense of community" said freshman softball player and communication studies and disorders major Maddie Riley. 
Riley said she is lucky to have such a great team and loves connecting with other athletes outside of her sport as well. She described her experience as a "blessing in disguise." 
Little pockets of community have formed on campus. Even though it is not bustling with students and noise anymore, this shared experience of playing for their school during a pandemic is sure to form community in a special way. 
Will spring sports be another cancelled plan? Nobody is sure yet, but these athletes are still continuing and committing to train for the sports they love. 
Fellow private Christian college Westmont College has remained on-campus since late September. Athletes and students alike are getting a taste of the college experience.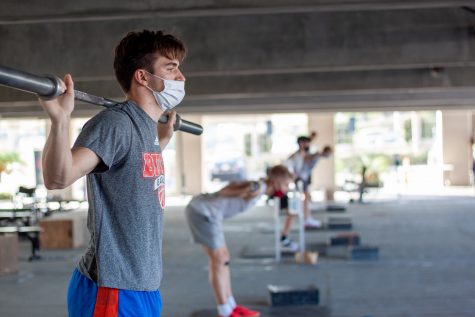 Westmont soccer player Braeden Pryor said that while his season has not been cancelled, it has been reduced to four teams instead of eight. He and his team doubt the season will come to fruition.
He described the campus as ghostly.
"I will walk from the top of campus where my dorm is, to the bottom of campus for lunch, and I don't see a single person in the middle of the day" said Pryor. 
The social component is an important part of the college experience. Pryor expressed that right now that is not what students are getting, even though they are on campus. 
"You would usually think a student athlete is stressed for time," he said "But because social life is so far gone here, I almost have too much time" 
Being a student athlete used to be a full time job, but not anymore.
RESILIENCE 
Everyone experienced quarantine this spring and this semester many athletes are feeling those same feelings of isolation and uncertainty. 
Some athletes have been training since last winter for a season that feels like it will never happen. Staying motivated and continuously training for a season that still may get cancelled can make it hard to wake up early and work as hard as they used to before the pandemic, they are remaining steadfast in their commitments, which is admirable.
With some finding their community within their teams, and some outside of campus with other Biola students, it does not necessarily look the way one would expect. However, each athlete expressed immense gratitude for the opportunity to live in such a wonderful place, even if it is not entirely normal.