Written by Claire Callway
English budgies, lineolated parakeets, cockatiels, and canaries populate and color Peggy Burke's life. Cacophonous chirping and the sound of fluttering wings fill her home so much that we can hear it from the outside. Within seconds of walking in the door, a large, regal green Macaw named Tiki had already found a perch on my photographer's head.
Apart from Tiki, several other birds flitted around the main room, chirping happily and playfully at each other. Burke gladly showed us around her rooms filled with cages containing around one hundred birds of all breeds, sizes and colors. She allowed us to hold a few as she spouted off-the-cuff facts about each of them — where they'd come from, their personalities, and tendencies. After we had been through all of the rooms of her aviary, we sat down to talk to Peggy Burke about herself and her family of birds.
Burke first started keeping birds as a ten-year-old. One day, out of curiosity, she put the birds in a nesting box, and they made chicks.
"I was ruined," she says. "It was absolutely the most marvelous wondrous thing in the world. You crack an egg open, and it's full of clear, liquidy stuff with a yellow blob in the middle. And then twenty-one days later it's a perfectly formed little bird. It's just magic for me."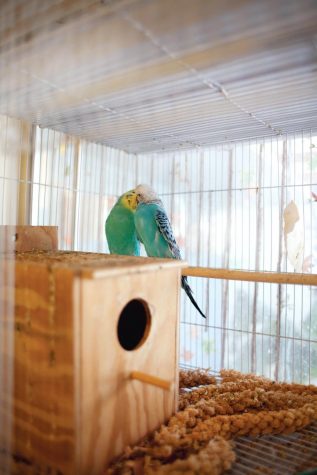 Burke had fallen in love with seeing the formation of life through the birds; however, many years went by before she had the chance to keep them again. She spent several years as an artist on the mission field in North Africa. When her time overseas ended, Burke returned to California and became an English language professor at Biola. In the midst of two big life challenges — her transitions back to the United States and through a divorce — Burke bought a little parrot named Tiki to keep her company. He instantly reignited her love for birds.
"He seemed lonely," she says of Tiki, "so I got a canary to keep him company. Then, I got another canary to keep that canary company." Looking around the room filled with cages, she smiles, "One thing leads to another…"
Today, Burke keeps the birds to breed them for sale. Burke appears to be completely in her element when discussing and taking care of her birds. She has even started a bird supply business, called Peggy's Feathered Friends, a little over a year ago. Burke treats her birds like family, and the birds treat her like family as well.
"They're just so affectionate, so sweet," she says. "I just walk into the room and feel loved." Her best friend, Tiki, constantly hangs closely around her. As she sat with us, she lavished him with kisses, which he returned obligingly.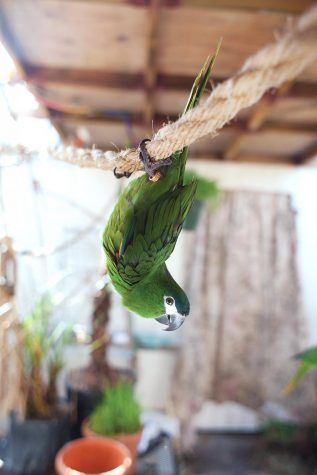 Burke is convinced that birds have just as strong a need for family as humans do. "I believe very strongly that birds should have others of their same species. It is very important for their health," she says. "They're okay because they have each other. There's something to the saying 'birds of a feather flock together.'"
This philosophy has greatly influenced her method of breeding. "If you really take care when raising them, people know the difference between this and going to Petsmart and getting some poor creature that has been living behind a glass case with very little contact."
Raising birds means more than just feeding and caring; for Burke, it has beome a method of personal growth. The pleasure and pain brought by Burke's passion for these feathered friends has changed the way she sees God. By viewing the beauty and intricacy of life through her birds, Burke has gained a deeper understanding of God and his role as Creator. "I'm constantly amazed at God's provision. How he sustains his creation is extraordinary. And on top of that, he has made it so incredibly beautiful. I feel like [raising birds] helps me to praise him," she says. "It's an echo of Eden, because we left the garden and have always wanted to go back."
Burke's love of birds has also brought a greater community of human friends. Since her experience in breeding is relatively limited, Burke receives mentoring from a fellow breeder in Arizona. This mentor has taught Burke how to properly feed and care for the birds, and provided her with quality birds for breeding. Burke also has neighbors who are fellow bird-lovers.
"We often share meals together," she says of her bird-loving community. Even though breeding the birds brings her such joy, doing so sometimes brings her just as much pain. Learning how to properly care for birds is a long process that inevitably involves loss.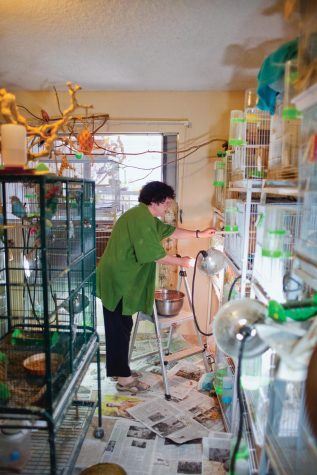 Because of how small and delicate the young birds are, Burke can accidentally choke chicks when she is feeding them. Last year, she lost about 75 percent of the canaries and at least half of the Lineloted Parakeets because she didn't know how to properly care for them.
"There's a definite learning curve," she says. "With every one that I lose, a little piece of me dies."
However beautiful the formation of life, however great the awe Burke experiences at seeing tiny beaks poke through shells for the first time, it at times demands such hardships. Burke learns, through her birds, to value intensely the present things — the sounds and colors of fluttering wings — even as she winces over the losses. The birds have brought so much brilliance to her own life that Burke feels it is her duty to share her birds with others.
"Often I'll give birds away, even expensive ones, to families that couldn't afford them, just because I think it's such an educational experience. They changed my life," she says.
One Woman's Bird Paradise from The Point on Vimeo.
Galleries