Written by Rose Borrero
"They say the blacker the berry the sweeter the juice, I say the darker the flesh then the deeper the roots," – Tupac Shaku
Winding down the streets of Inglewood, going past the Skittle-colored houses done in Spanish adobe style, past the corner markets and bodegas with signs stating, "Milk, Eggs, and Liquor," bopped a festival celebrating Black History Month. It was nestled neatly in a predominantly Afro-Caribbean neighborhood, bragging of African and Jamaican food, niche afro-centric shops, and hair salons. Despite the abrupt windiness and the looming threat of rainfall, an entire block was lined with Black-owned businesses, natural food stands, and musicians and artists showcasing their craft.
Each vendor had a unique story or take on the product they were selling. A common denominator amongst many of the vendors was their expressed desire to put out more representations of Blackness in everyday life, particularly in the mainstream culture — for people to be able to look at women's health, hair, or fashion and not feel like an outlier. To look at sports apparel and not just see one body type but see their community represented as well. To browse through literature and find fictional or nonfictional characters who look like them, because the narratives of Blackness are important.
What was even more incredible were the number of female-owned businesses, representing a severely underrepresented demographic in mainstream culture generally. One of the vendors included a tea stand. There, Jazmine Doby,  a woman with gorgeous brown and purple faux locks was selling loose leaf tea blends geared towards vaginal and feminine health. She shared her journey of having lived through fibroids, miscarriages, and painful menstruations. Although the tea is not meant to replace the direction of a physician, creating tea blends for herself and friends helped carry her through a particularly rough time in her life. Doby's friends encouraged her to begin selling her tea blends, as they were not only delicious but acted as natural remedies to some of the pains accompanying women's gynecological health.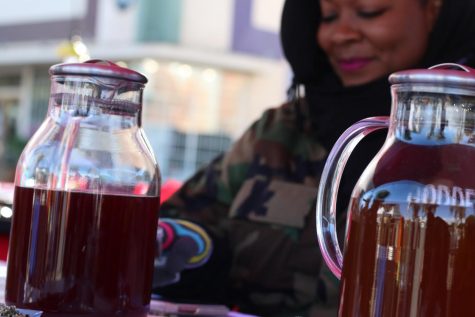 Across the way, stood a stand for Ruby's All Natural Products for hair and skin — emphasis on the hair. Ruby's, run by LaShonda Sims, her cousin, mother, and aunt, is an all women's hair boutique business, specializing in advanced cuts and styles, specifically for Black or African hair. Two vendors over was a stand for high fashion head wraps, jewelry, and Afrocentric clothing. Zevelyn Jean, a high-end brand, aimed at making Black women more visible in the professional world, displayed tasteful headwraps and turbans, pointing to the ethnic diversity within Black womanhood. Once more, another female-owned business stood nearby. This one owned and designed by Tara Taylor, a running coach, and athletics clothing designer. Each running top, sweater, and design was a celebration of Black women bodies and physique. Many have owned their businesses for three plus years, some for as long as two generations, all representing another aspect of Blackness. If I did that, it would be shameless plug after shameless plug. Although black-owned businesses are important and are deserving of attention, it is also important to appreciate the social realities of differentiated Blackness existing in one collective space. I was in awe. I was happy beyond measure and eager to support in whatever way I could, particularly through the sampling of products and purchasing of goods. I felt in many ways at home.
 it is also important to appreciate the social realities of differentiated Blackness existing in one collective space.
Being at the Black History Month festival was a reminder of Nina Simone's ever-ringing and true resounding words, "Oh to be young, gifted, and Black!" It was a reminder of community togetherness amongst political and social division. It was a literal example of community upliftedness and caretaking as there also were low-cost pop-up clinics and HIV/AIDS testing clinics, in an area where the economic depression does not even allow for fresh food markets or grocery store chains to exist, let alone accessible healthcare services.
To walk through the festival, visiting the different vendors, hearing family stories and stories of resilience, had me caught up in moments of joy and hope. Representation and diversity matter, Black community matters; Black-owned businesses promote visibility and representation where Black individuals, and especially Black women, are severely underrepresented. It also brings attention back to the needs of the Black community, and the communities rallying efforts to both to celebrate the diversity of Black ethnicities and cultures and support where support is desperately needed.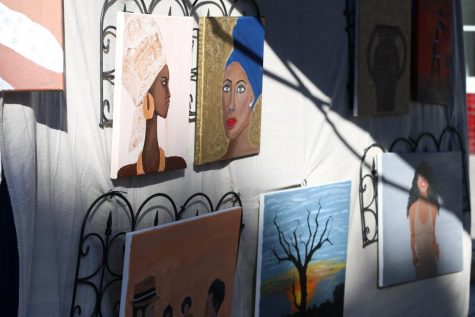 Every day I am Black. Visiting the festival, I was especially happy to be Black.