Writer: Ashley Grams, Story Editor: Amanda Frese, Designer: Tabita Bernardus, Photographer: Stephanie Guevara
In the current political season, voters learn ways to stay informed and engage in conversations via social media.
It's just another day in quarantine during the COVID-19 pandemic. Seven months in and staring at a screen for hours on end is normal. What else is normal? Fighting with your followers on Instagram about the upcoming election. 
In the past several months, Americans have faced divisive rhetoric across all forms of media. The 2020 presidential election is no exception. Tomorrow, young voters are faced with a tumultuous decision. In an effort to establish normalcy, Generation Z has fallen victim to corrupt social media by spreading false facts and alienating their peers online. They are still learning how to respectfully engage with one another and digest accurate information. Young evangelicals must consider how their political actions reflect their beliefs.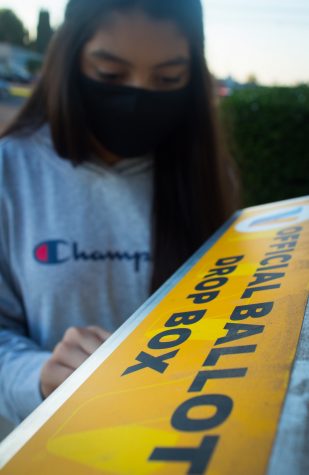 PICK YOUR BATTLES
More times than she can count, Biola University alumna Jasmyne Bell has received a direct message notification on Instagram about the election or about political issues. The messages can look like anything from supportive texts from a close friend to a nasty, berating rant written from someone on the other side of the political aisle.
"I just get upset having to argue in the DM's," Bell said. "It's so petty to me."
These conversations have surprised many, including Biola senior journalism major Adam Pigott who encouraged young adults to be conscious about who they engage with online. Argumentative messages can come from unexpected places, including loved ones. This can cause both mental and emotional turmoil.
"Politics and division in politics is one of those things where you really have to pick your battles and where you really have to decide which [conversations] you really want to get involved in," Pigott said. "I try to only get involved with people I know." 
YOUNG PEOPLE ENGAGE 
Many conversations on social media sites begin because of information posted— or reposted—on a user's story. Instagram has become an integral way to express personal views and engage in the election. These social media stories prompt young people to participate in conversations, whether educational or hostile, and have become the main way young adults voice their beliefs. 
Bell thinks that these conversations have increased because of the coronavirus pandemic. Without time to engage with others face to face, people are turning to social media. Bell has used Instagram to her advantage during quarantine by advertising a self-made political zine called the Star Spangled Zine. 
"It's really just a simplified voter's guide because the voter's guide that was sent in California was really beefy. And let's be honest, no one's reading it," Bell said. "Or if they are, they're skimming it and they're probably not digesting all the political jargon. Therefore it's virtually useless to people, especially from our generation." 
Bell and other young adults researched and condensed the California voter's guide into an aesthetically pleasing, easy to read, self-published booklet. She hopes everyone from first-time voters to politically curious adults will find helpful information in the zine. Bell has also worked to create a positive space on social media where young adults can engage and be encouraged to increase their election knowledge.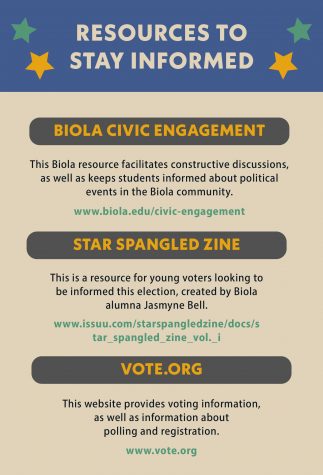 Aside from social media, Pigott and California State University, Fullerton senior Francisco Portillo are researching election topics outside of social media apps. Portillo, a journalism major, looks for vetted media outlets he trusts and sources his information from their website. Recently, Portillo has found the LA Times video on California ballot propositions to be helpful.
"Do your best to try to read things from both sides… listen to and read what's said on Fox [News] and then go over on the other side to CNN or MSNBC and say OK, where can I find the truth," Pigott said.
HEAVENLY CITIZENSHIP
Alan Frow, senior pastor of Southlands Church in Brea, California, will be voting for the first time in a U.S. presidential election this season. Several years ago, Frow and his wife immigrated to the United States and they now hold dual citizenship in both the U.S. and South Africa. 
Frow is known for quoting Philippians 3:20, written by the Apostle Paul, saying "our true citizenship is in heaven" and has counseled many Christian voters to see the world and the election through Paul's lens. He argues that believers are Christians first and American citizens second. Therefore, voters should allow their faith to guide their political actions.
"[Paul] calls the church to be a colony of heaven on earth, living for the kingdom of heaven to be established and for our hope ultimately to be in the king of heaven who will one day set up his righteous rule on earth," Frow said.
Christianity also affects the way voters live daily, not just their individual perspective. Frow says that Jesus cares more about the way you walk and less about the way you vote.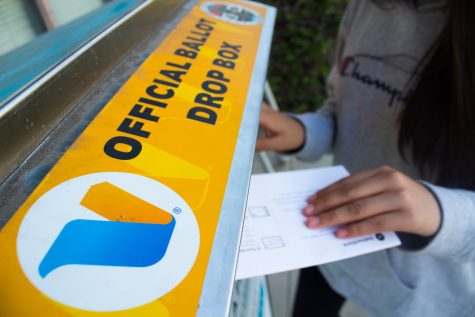 "As we view politics through the lens of the kingdom of heaven, we will conclude that Jesus cares not just about how we vote, but also how we act and speak, especially towards our political opponents," Frow explained.
The Bible calls Christians to a culture of honor and civility. Therefore, when engaging in social media Christians should understand the ramifications of their posts on both sides of the political aisle. 
"Know your facts and don't let your emotions get the best of you," Bell said. "And by that I mean don't start being insulting and rude when someone isn't agreeing with you because that does nothing."