Written by Alyson Luthi
If you have just turned onto Interstate 101 heading north from Biola and are winding through its maze of concrete walls and climbing ivy, veer off onto the Soto St. exit, and you will find yourself dumped into the heterogeneous neighborhood that is Boyle Heights, Los Angeles. The residents of Boyle Heights hasten to correct any misconceptions that their community is an inclusion of L.A.'s East Side and the stigmas that accompany it. Their identity is unique — a hodgepodge of ethnicities that have mingled into a neighborhood mosaic within their shared vicinity.
"There's a lot of subcultures within L.A., and people in Boyle Heights want to form their own identity," resident Alicia Miller comments.
In June of last year, Alicia moved in to the "Hollenbeck House," a newly established communal house in the Hollenbeck sector of Boyle Heights. During her last year as a nursing student at Biola University, Miller became involved in multiethnic programs on campus, and more aware of her given ethnic identity as a white woman. This new awareness attracted her towards the idea of personal displacement and integration into a more diverse locale. She had originally wanted to break free of the U.S. and move overseas after graduation, but as her senior year approached, she experienced a growing appreciation for local diversity.
"God really confronted me with the fact that it was really easy for me to love people who were far away from me and in a dire situation," Miller says, "but in reality he had a lot to teach me about loving the people that are next door to me in my neighborhood of L.A."
The Hollenbeck House is the brainchild of owners Larry Smith — an English professor at Biola University, L.A. City College, and Rio Hondo Community College — and his wife Nikki, an independent print editor. Larry had been a professor at Biola for seven years prior to moving to Boyle Heights and was already making efforts to immerse students in L.A. history, culture, and communities via his L.A. Literature classes at Biola.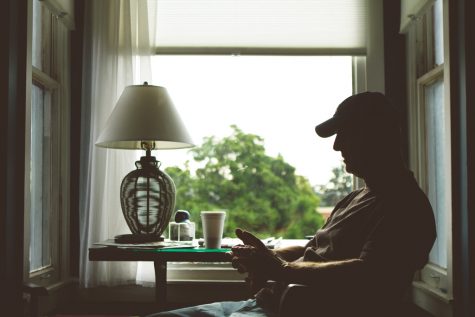 The Smiths have lived in multiple regions of the world —from Washington to Papua New Guinea—and in the spring of 2010, they were ready to make another transition. Larry had led several of Biola's cross-cultural excursions to the Middle East, and he and Nikki had made a point to saturate their everyday ordinary life with Los Angeles culture and people. In addition, they hatched a new idea: invite Biola students to live with them as part of an affordable urban experience.
Larry and Nikki's first task was to find a house. It seemed that almost every subsection of L.A. that they were interested in specialized only in subdivided houses. One day, in the midst of his housing search, the real estate program Larry had been using to browse houses built between 1900-1930 wasn't operating. He began using another program to scroll through houses, and soon found the Hollenbeck House, built in 1988. At the time, the house was owned by a couple in their 90s who were looking to relocate.
"We made an offer the first day for the full price, because we just knew the Lord wanted us to have the house," Larry reminisces.
While they awaited move-in day, the Smiths sold and vacated their home in Pismo Beach and moved into a motel in Pasadena. They were excited to live closer to the people of Los Angeles and become a part of the organic culture residing there.
"It will never be a gentrified, cool, white neighborhood," Larry remarks of their new home. He comments on the difference between Boyle Heights and downtown L.A.: "I'm never excited about the downtown. All the people moving downtown are 30+ white yuppies who hang out at The Standard and eat at Novel Café and go to art galleries. Boyle Heights is still in the process of change, but it remains a very authentic, working class neighborhood." He hopes that their neighborhood will only become more diverse and colorful with time.
Resident Ashlee Morgan moved into Hollenbeck House last April, along with the Smiths and the first batch of Biola students. A Biola intercultural studies major from Colorado Springs, Ashlee has acclimated to life in Boyle Heights and her local job at Computers for Youth (CFY), which focuses on interactive computer training within families in order to promote better education for their children. According to Morgan, life in Boyle Heights is not crazy or necessarily challenging — it is just unique. Everyone keeps busy either at their local businesses or elsewhere in L.A., and friendliness is commonplace between friends and strangers.
"A lot of us expected when we moved here that the neighbors would be so open and we'd have great relationships with everyone on the street," Morgan says. "But I think just having to get to know the culture was something new and challenging. Everyone goes in with an expectation, and when that's not met you have to adjust."
Morgan's everyday challenges and concerns are divided between the busyness of school and CYF.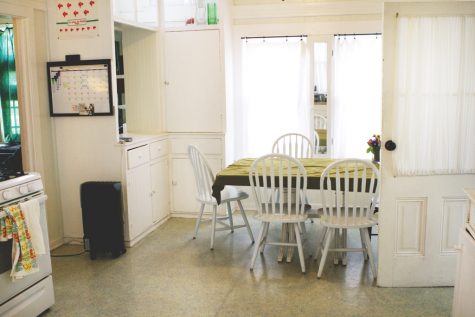 "CYF has opened my eyes to a lot because we are going into some of the poorest neighborhoods in L.A…I went to a middle- to upper-class school when I was a kid, and at CYF we see the differences in the structure and the upkeep of schools and what is accessible to the children through education." She is excited to keep seeing the progress of children's educations through CYF, and although she isn't sure where she would ultimately like to live, she appreciates the experience that her location has allowed to be integrated into her daily life.
Being involved in some sort of tutoring, volunteer work, or an internship is a requirement for each student who applies to live in the Hollenbeck House. After all, its purpose is to grant students a genuine experience of Los Angeles through interaction with the people and practical service — whether or not L.A. is their final destination after graduation.
"The application is what we call a self-eliminating application," explains Larry. "If you answer honestly, you're just going to sense whether or not the Lord is calling you here. It's only been one year, but we've learned through trial and error. The students will be committed to community and service and will be required to tutor at the local school, not because kids here necessarily need more tutoring than kids in La Mirada, but because this is where we live!"
Taija, a former resident of the Hollenbeck House reflects on her unique experience volunteering last summer at S.A.Y. Yes!, a tutoring program for inner city children. "I was in a foster home before I came to Biola, and I remember my foster mom saying she wanted to drop me off at Skid Row and leave me," Taija says. "I had no idea what Skid Row was before I moved to Boyle Heights and finally saw it." Her summer opportunity to reach out to kids in her neighborhood through education quickly became her long-term personal goal. "I tried not to focus on the problems I couldn't fix in their circumstances because I didn't want the kids to think I was just being nice to them because they're homeless. I don't want them thinking that S.A.Y. Yes! was only there because we felt sorry for them, not because we loved them. I want them to realize that we were there out of love because education matters so much for their futures."
Taija's speaks from her own experience when she advocates for the importance of making the most of education.
"I value education because that's what got me out of foster care and brought me here. The reason why I'm not on the streets today is because I decided to get good grades in highschool so I could go to college and beat the streets." Taija hopes to continue living and working in L.A. after she completes her degree in sociology and social work next spring.
Ashlee echoes the sentiment that holistic living should be a natural part of being in community. "Living and working in Los Angeles and Boyle Heights, specifically in neighborhoods with a lower income, you experience genuine people," she says. "We had a really good conversation one night about how we can minister to this neighborhood, and we decided it's not about bringing God into the neighborhood because He has always been here. We are just another component of this community."
"We can often perceive places like L.A. as 'we have so much to offer them' and 'we're bringing God with us,' but God is already at work in L.A.," agrees Miller. "We've stepped into something that is already going on. It was really affirming to step into a community that embraced me and that really focuses on doing life together and loving each other and walking alongside each other."
Following graduation, Alicia set aside her nursing degree to focus on her position as the multiethnic programs assistant at Biola. The program works to build community through ethnic identity development as well as the development of Biola's multiethnic community. She brings the lessons she's learned at work about cross-cultural dialogue into her living area and vice versa, and perceives herself as being on the receiving end of the Boyle Height's community more than the giving.
"We all want to get involved because we have strengths and ideas that we want to share in our community, but we also want to be good listeners and receivers of the people around us."
"Nobody's ever asked 'What are you doing in this neighborhood? Why do you live here?'" says Larry Smith. "We're really here to focus on serving in the ways that we can, especially through tutoring because who better to do that then student teachers. If being here leads to relationships then that's great. Fundamentally, I think that urban living is the key to the church. People always think in terms of financial security, safety, and a traditional family life.
We don't necessarily think, 'I want to raise my kids around MacArthur Park'. But why wouldn't you? Elsewhere there's social strata. Boyle Heights has its own issues and problems like anyone, but here if you live in Boyle Heights, you live in Boyle Heights. This is our neighborhood and we stick together."
photos by Job Ang and Kelsey Heng