Written by Leah Lu
The Bootleg Theater is a music venue that strikingly resembles the residential studios surrounding it. Sitting on the fringe of Echo Park and backdropped by the Los Angeles skyline, Beverly Boulevard felt like it was nestled in a suburb, quiet and littered with pharmacies, liquor stores and churches. The area is not glamorous and rather homely, a vibe that could not have been more fitting for Vancouver Sleep Clinic's intimate, headlining show on Nov. 29.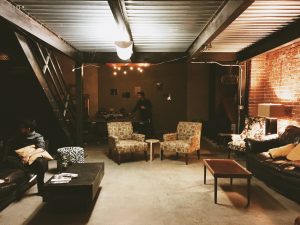 Upon arrival, one immediately notices the welcoming, almost familiar comfort of the Bootleg. The theater is spacious, its walls donned with exposed brick and cement. Down the hall there is a lounge with a loft-style setup — couches and chairs are scattered throughout the two-story space and occupied by relaxed patrons. The bands lingered there before the show, surrounding the ping-pong table and sharing snacks.
With all of these environmental oddities factored in, Tuesday night felt less like a concert and more like a house party. As Brisbane-based MTNS took the stage at nine, Tim Bettinson, frontman of Vancouver Sleep Clinic, stood with the crowd and swayed along to their ambient synth-heavy melodies. The second opener, Lo Moon, performed a high-energy set of tunes that sounded like a hybrid of '80s ballads and '80s rock, shaking the room with each bridge buildup.
But none of that could match the mesmerizing slew of songs that rang through the theater when Vancouver Sleep Clinic came on a little after 11pm. With his haunting falsetto and harrowing instrumental crescendos, Bettinson's poetry manifested itself through sound that crooned the crowd into intent listening. A hushed roomful of eyes remained fixated on the 19-year-old as he poured himself into what is undoubtedly his soul's expression: stanzas of raw emotion that take on a different meaning for each listener. In that interpretive freedom, everyone in the room was clearly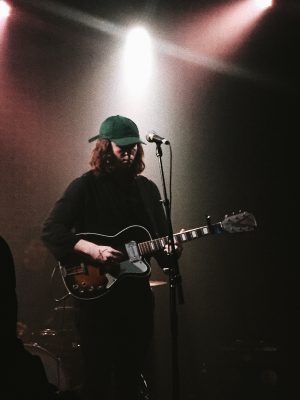 connected to each song, unifying the crowd despite an array of diverse circumstances.
In a 2014 interview with The Guardian, the Australian singer-songwriter described his vision for Vancouver Sleep Clinic by stating, "Making music has never been about me placing myself in any spotlight; it's about giving people a collective experience." And that is exactly what he accomplished two years later in a place he had performed once before.
"We were all 17; nobody had any idea how to play their instruments or anything. We were just a complete mess," Bettinson told the crowd after being urged back onstage for an encore. "It was on this exact stage, and I was freaking out – I'm still freaking out now, but in a better way."
Vancouver Sleep Clinic closed the show with their most popular track, "Collapse," a soulful and moving power ballad that ends with the repeated line, "We've been outgrown." It was a reprise both musically–defined as "the repetition of the exposition preceding the development"–and representatively regarding the band's journey. 2016 has been a year of steady upward movement for them, having just released new music for the first time in years and wrapping up as the opening act for Daughter's North America tour, all within a few months. Returning to the Bootleg to play a humble and unsophisticated show constituted a full circle ending, a nostalgic homecoming to where the narrative began.