Writer: Karly Pridmore
Photographer: Natalia Hernandez
After over a year of navigating the COVID-19 pandemic, adaptability became the top priority of student organizations within the Biola community. As many students experienced months ago and continue to today, COVID-19 altered the ways in which students experience school and extracurriculars. From the way the Student Government Association leaders hosted events to the publication of the student-run newspaper, Biola's leaders had to adapt to preserve their organizations.  
Biola's student-run newspaper The Chimes experienced this first-hand. The Chimes seeks to not only report on happenings within the Biola community itself, but to connect global events to the student body.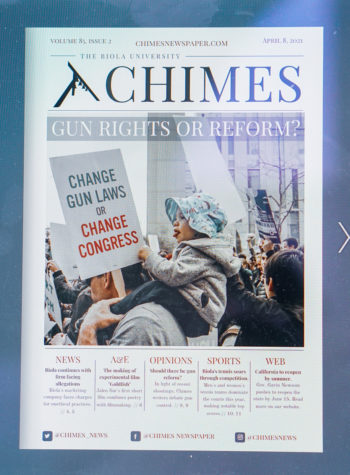 THE CHIMES
Current editor-in-chief Lacey Patrick explained some of the hardships specific to her news organization. 
"We used to do one every two weeks and it just adds to campus," she said. "You walk by and you see the newspaper stands and they're your own peers writing these stories." While The Chimes does not post daily articles on their online platform, pandemic restrictions forced the publication to cut back on the usual bi-weekly print publication. 
Like many student run organizations within the Biola community, the value of being face to face was heightened, but it was in these struggles that they worked to find adjustments that ultimately benefited the organization as a whole. 
"One benefit of the pandemic is that it taught us how to be more social-media heavy and have a stronger [digital] presence," Patrick said. "It has definitely taken us out of our comfort zone, which is great because we have had to learn how to adapt, and you have to learn how to adapt at some point."
STUDENT GOVERNMENT ASSOCIATION
While adaptability has worked to the Chimes' benefit, not all student organizations have benefitted in the same way. 
"When everything started shutting down, Biola created a reopening team that is completely constructed of administrators, faculty, and I was the only student on it," said current Student Government Association President Keren Godwin. "I feel as though I had a unique experience because I was attending meetings within the summer. But I had to go from representing the needs of 800 students to like 4,000 students in the middle of a pandemic."
After COVID-19 cases spiked during March of 2020, Biola made the difficult decision to send students and faculty members home for the health of the campus. This presented a problem for the student government since fostering student community is a vital part of their mission. 
Much like other student organizations, the deep feeling of disconnection from the Biola community made the effects of the pandemic much worse. 
"I think it's the tangible, personal connection that we have to miss this year," said Godwin.
Personal connection has been a continual driving force within the hopes and dreams for the futures of these student organizations. 
"Another thing that has been difficult this year is that because we haven't been able to have events, there haven't been many proposals that come to SGA, internal or external proposals," Godwin mentioned.
It is the connection between SGA and the student body that makes proposals for overall improvement around campus all the more important. Not only do proposals come from inside SGA, but students can submit external proposals as well.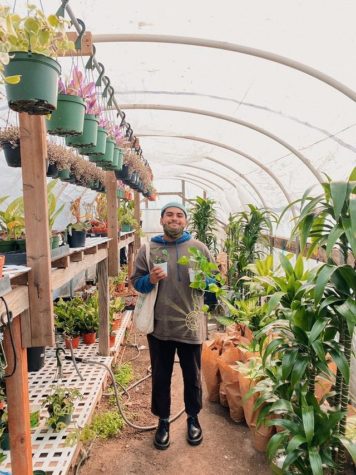 RESIDENT LIFE 
Resident Life has experienced some drastic changes as well. Resident Advisors used to be in charge of planning fun events like movie nights. However, this was not the reality of this year. The shift from in-person to online structure resulted in less students on campus, but it was the reintegration of students through the phases that made it particularly hard.
"When I was a resident I had less responsibilities, I got really close to my floor and upperclassmen friends," said Blackstone RA Noa Melendez. "I got to watch my RA's care and have them orchestrate and administer friendship. Being able to build a community with lack of spaces to engage has been so hard. It's hard to build culture on our floor because we cannot even see each other."
As his perspective, expectations and reality of being an RA has shifted, Noa Melendez said there have been many good things that have allowed him to grow. 
"God's been showing me how to adopt well and roll with the punches," he said. "I'm glad to have my job because I want to be there for the boys on my floor the best I can."
As the Chimes, Student Government Association, and Resident Life have adapted and moved into a temporary online structure, it is through the loss of in person connection that they have been able to continue to dream for a better life within their organizations post-covid. 
Despite these hardships, embracing new things and finding ways to learn how to improve as leaders has ultimately led to the success of maintaining a student organization within a pandemic. 
"It has been difficult," concluded Patrick. "But I believe it has brought us closer together because we've really had to rely on each other to help one another out where our shortcomings are because of the stress of the pandemic."